Benefits
First-time stain removal, even in a cold wash (30°C)
Chlorine-free formula to keep your colours safe
Just pop into your empty washing drum for hassle free laundry
What It Works On
Our Multi Power tabs, stain remover even at 30°C are safe to use on everyday fabrics like cotton and polyester. It can also tackle stains on both coloured and white garments

Learn how to remove food and drink stains with Vanish!
Add to Drum: Place 1st tab in your empty washing machine drum
Run Wash: Load Clothes and wash with your usual detergent
Enjoy! Every outfit, for every you.
If in doubt, test on a small, inconspicuous area before full application. Always follow the instructions on the back of the packaging
Ingredients
Amazing Stain Fighters
Sodium percarbonate - Releases active oxygen to lift out stains and odours safely.
Tetraacetylethylenediamine (TAED) - Boosts stain removal even at low temperature.

Enzymes - Break down food, starch and outdoor stains.

Anionic & Non-Ionic Surfactants - Remove greasy stains safely.
Cleaning Boosters & Helpers
Zeolites - Soften water
Sodium Carbonate - Enhances deep cleaning
Freshness
Perfume - Provides a boost of scent.
Disposal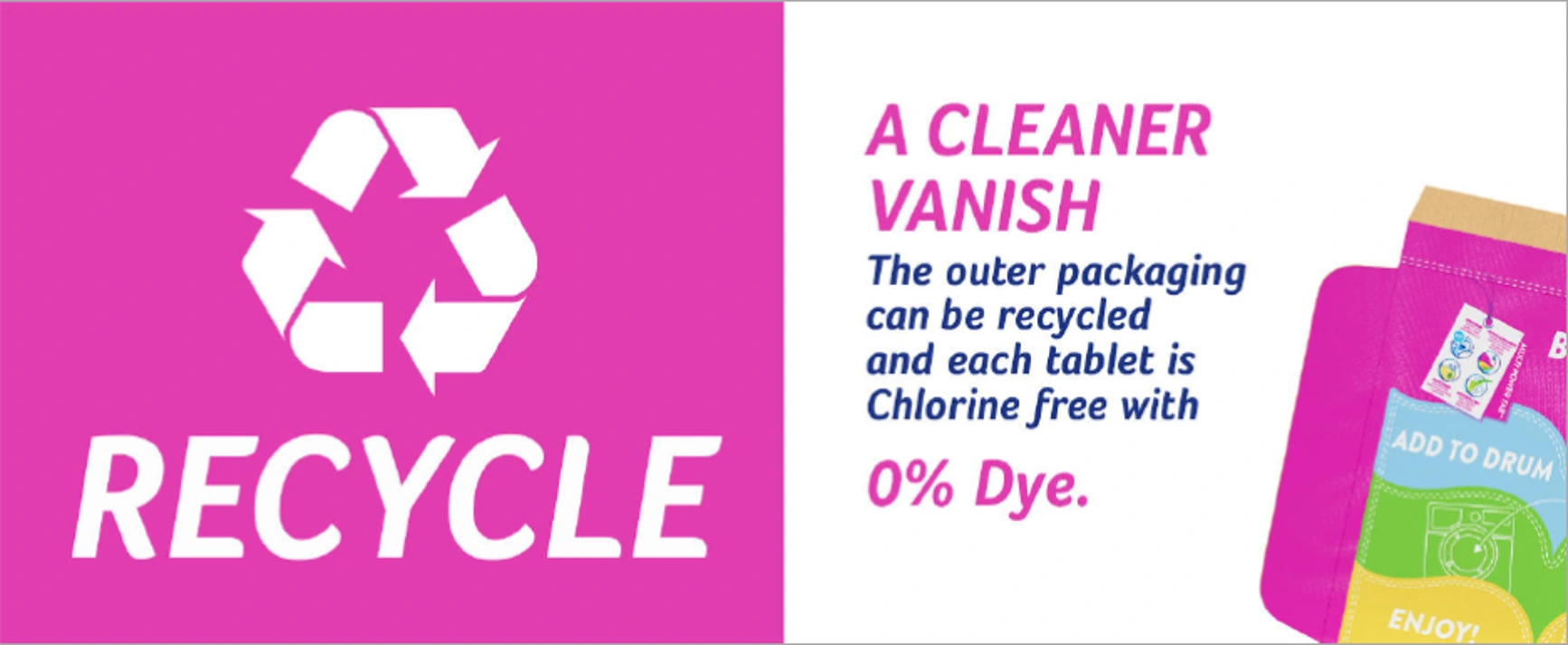 FAQ
Our Oxi Action products don't just remove stains. The multi power formula also eliminates odours and keeps colours bright, just add one dose of Vanish in every wash to help your clothes live for longer!
Vanish can be used on all coloured clothes, even your dark items. For the best results on your black garments, use Vanish Oxi Action Multi Power Powder instead. It removes stains and odours, as well maintaining colours including darks!
To tackle tough stains we recommend using our Pre-Treat products in combination with our Oxi Action Laundry Booster Range. Our Oxi Advance products have a multi-benefit formula which removes stains, eliminates odours and brightens colours or whites.